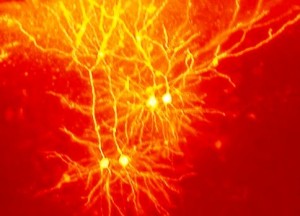 Un equipo liderado por Christine Ecker del Instituto de Psiquiatría del King's College London, del Reino Unido, ha publicado en The Proceedings of the National Academy of Sciences (PNAS) una investigación que indica que el cableado neuronal del córtex cerebral podría definir la gravedad de los síntomas del síndrome de espectro autista.
Según este trabajo, las diferencias existentes en las conexiones neuronales de esta capa (el córtex) de materia gris que influye en el pensamiento consciente, la memoria, el lenguaje y otras funciones, podrían predecir la gravedad de los síntomas sociales y repetitivos en adultos con trastorno del espectro autista.
El análisis realizado incluyó la medida de la longitud de las conexiones, mediante la realización de resonancias magnéticas a adultos con y sin autismo, y resultó en una medida de esa longitud de las conexiones mucho menor en las personas con autismo, especialmente en las regiones fronto-temporales del cerebro.
Ver: